Inspire Higher Panel at SJCC Milpitas Extension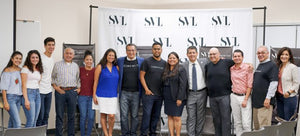 On the evening of August 30th, Silicon Valley Latino and San Jose City College were delighted to present the first Inspire Higher Panel presentation to an open audience. Typically, the Inspire Higher program has been a tour involving select high schools in the South Bay. These schools have included the Luis Valdez Leadership Academy, Latino College Preparatory Academy, Cristo Rey, Milpitas High School and ACE Charter High School as well as ACE Middle School and Sacred Heart Nativity Schools. Through the Inspire Higher Tour, Silicon Valley Latino features four Latinos from the STEAM fields. Although STEAM is typically the acronym that represents Science, Technology, Engineering, Arts and Math, through our definition the "E" also represents Entrepreneurship and Entertainment and the "M" also represents Media, Marketing and Management. We typically feature two Latinas and two Latinos from these fields through a one-hour moderated panel discussion. During this hour the panelists share their journeys in a very open, honest and authentic manner, they share the good, the bad and the ugly.  The panelists share in such an inspiring way that even though the students did not know them prior to the panel presentation they rush at them at the conclusion of the Q & A segment like groupies to rock stars, it's such a beautiful thing to watch.
One of the challenges that Silicon Valley Latino has faced in the past years while presenting the Inspire Higher Tour is that these presentations have been rather exclusive to students of the select high schools participating. However, now through an established partnership with San Jose City College, these panel presentations will be offered to the general public (students, parents, professionals, etc) on a regular basis at the new San Jose City College Milpitas Extension. Both Silicon Valley Latino and San Jose City College are excited about this partnership and prospect of offering a variety of similar type activities for our community.
On August 30th, the first Inspire Higher Panel presentation at the San Jose City College Milpitas Extension featured a stellar line-up of Latino Cultura Ambassadors which included Diana Albarrán Chicas (GEO Product Line Manager at SSL and co-founder of Latinas in STEM), Rich Garcia (co-founder of Blyve.com), Nancy Rosales (Serial Entrepreneur and media & business consultant), and Ivan Reyes (Serial Entrepreneur and Executive Director for the Police Activities League in Redwood City).  As usual, these panelists shared their journeys in a truly inspiring manner and passed on lessons learned as well as what inspires them these days. We encourage you to watch our Inspire Higher recap video below.
Also, stay tuned to the next Inspire Higher Panel presentation at the new San Jose City College Milpitas Extension!
Leave a comment
Comments will be approved before showing up.