Milpitas High School receives SVL "Inspire Higher Tour"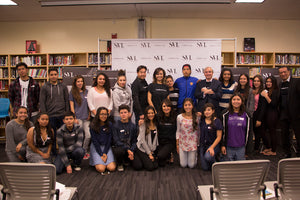 On Friday April 24th the Silicon Valley Latino "Inspire Higher Tour" made its latest spot at Milpitas High School in Milpitas Ca. This time the featured panelist included Giovanni Rodriquez, CEO of SocialxDesign and Forbes contributor, Elba Moreno Linscott, Senior Program Manager at Intuit, Leticia Pena, Senior Theater Event Services Manager at Team San Jose and Rich Perez, Founder & CEO of Perezidential Homes.
Our panel was delighted to have presented to the Spanish Heritage classes, Latinos in STEM Club and the Dream Act Organization.
Silicon Valley Latino is proud to have impacted and inspired another 44 eager and enthusiastic students through this tour stop, this brings our total to 333 students this semester. We would like to give a special thanks to Cultura Ambassador, Spanish Teacher and Founding Advisor to both clubs at Milpitas High School, Maria Consuelo Vargas, for her partnership and support as we coordinated this special tour stop.
Once again we thank our Inspire Higher Tour sponsors because this initiative would not be possible without their support and partnership Our Champion Sponsor, Cisco Systems, Advocate Sponsors, Microsoft and Perezidential Homes and Amigo Sponsors, Kaiser Permanente and Oracle. We are excited to hold our next tour stop at Scared Heart Nativity Schools early next month!
If you are interested in hosting an Inspire Higher Tour event at your High School reach out to us via one of our social media platforms or via this website.
Leave a comment
Comments will be approved before showing up.