Leading By Example - Proud Dad Moments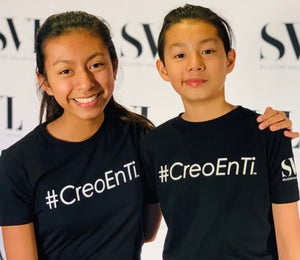 In my adult life, I had the pleasure of discovering the sport of triathlon, participating in this truly special sport has been one of the best decisions of my life. It not only provided me with an incredible sense of accomplishment and gratification it also taught me a lot about the human spirit and about tenacity and grittiness. Specifically, it taught me that I was a tenacious and gritty person and that if you are focused, disciplined and committed you can accomplish things that may seem impossible. You see, when I first started competing in 1994 I barely knew how to swim and didn't know much about cycling but I knew I was a distance runner and could run for days. I felt the other two disciplines I would learn. I started with what is typically called sprint triathlons or "tri-for-funs", we're talking the shortest triathlons around. When I thought of an Ironman triathlon (2.4-mile swim, 112-mile bike, and 26.2-mile run), I thought those races for truly special, gifted, professional triathletes. I never thought I would be able to do something like that but little by little I started leaving the sprint triathlons behind and ventured into the Olympic distance (0.9 miles swim, 24.8 miles bike and 6.2 miles run), then into the Half-Ironman (1.2-mile swim, a 56-mile bike, and a 13.1-mile run) and on September 17, 2005, I completed an Ironman. One of my favorite moments of that race came when I carried my 2-year-old daughter across the finish line. This is by far one of the most memorable moments of life. When appropriate, I've shared with both of my children the joys of competing in triathlons and mental fortitude, grittiness, and tenacity that I developed by participating in the sport. Ultimately, the message is nothing is impossible as long as you are committed, driven and believe you can achieve it.
This past year I've had the pleasure of observing the way both my children are developing their own grit and tenacity. I'm a firm believer that the best way to lead is to lead by example. I have had the pleasure of employing this strategy for decades throughout my career and the results have been incredibly rewarding. I have also employed this strategy with both of my children and it has also been extremely gratifying, however, this past school year both of my daughter and son have demonstrated to themselves and our family that if you put your mind and energy towards your goals, you will achieve them.
This school year, as usual, they both have excelled academically but this year they have achieved major milestones in their athletic endeavors. Since her freshman year, my daughter has competed in both cross country and track at the varsity level and doing well in both sports. This year she even won her first track meet in the 1 mile, however, I am extremely proud of how she has been demonstrated true grittiness racing in the heat, cold, rain and even hail. As a young man, I also ran track and cross country in high school but I never took a first-place finish, I came relatively close but never was able to attain that elusive win. At a young age, she has been able to accomplish goals that I wasn't able to achieve. I am so proud of her in so many ways and I know that she will be able to achieve so much more in her life.
My son, on the other hand, last week had the pleasure to compete in his first track meet "The East Side Relays" as a 5th grader. He competed in four relays with his fellow classmates, they did not fare too well in their first three attempts, however, in their last race, the 4 x 100, they took first place with my son bringing in the win as he ran the anchor leg. He enjoyed the entire experience and is looking forward to competing again next year. I am also proud of the way he showed up and competed at The East Side Relays, however, I am even prouder of the way he fared in his school's Running Club" program. Last year, as a fourth grader, he came in 2nd place to another runner by only two laps. This year, he was determined and each Running Club Wednesday, he would do his best to run as many miles as he could, he would average two miles per session. Well, the Ontiveros family is delighted to report that this year he earned first place at his school's Running Club and completely impressed that he ran a total of 46.5 miles this school year. I am equally proud of him and also believe that he will achieve many things in life just like his older sister. 
I truly believe that having these experiences early on in life, where they push beyond their comfort zones will teach them that they have grit and tenacity and that many times these are the key elements in achieving success in life.  
If you haven't already, may you discover that you have greatness within you, that you have grit and tenacity and that you may accomplish what once seemed impossible!
Leave a comment
Comments will be approved before showing up.