Voto Latino Power Summit Engages Millennials in San Jose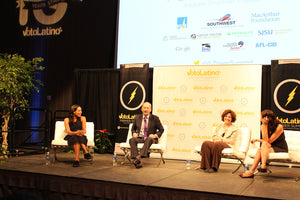 Last weekend downtown San Jose had a little bit more Hollywood star power than usual with the arrival of the
Voto Latino
Power Summit. College students, educators, civic leaders, and business professionals attended the two-day event to hear distinguished panelists discuss the power of the Latino vote. Co-founded by actor and activist
Rosario Dawson
and led by
Maria Teresa Kumar
, Voto Latino is a non-partisan organization from D.C. that aims to inspire English-speaking Latinos to become invested in the political process. Over the last ten years, the organization has creatively used the power of the media, Latino celebrities, mobile technology, and social media to register nearly a quarter-million voters. Now, Voto Latino has the support of entities such as PG & E, Southwest Airlines, The MacArthur Foundation, The Kapor Center for Social Impact, and Silicon Valley Community Foundation and of course Silicon Valley Latino.
"It's nice to be home," said Kumar, a native of Sonoma County who is Voto Latino's CEO and President. According to Kumar, it was important to include San Jose in the tour not only because the city is the hub of new technology, but also the home to a large Latino community. It was through her friendship with Assemblymember Nora Campos that Kumar realized bringing the Summit to San Jose would be "an opportunity for incredible change." Actor and Voto Latino Artist Coalition co-chair
Wilmer Valderrama
agreed by stating, "In order to empower this community, in order to empower our culture, we have to go where they live." Valderrama added, "I feel like that's the biggest issue that local government has is that they don't bring the conversation where people are." What kind of conversation did the Voto Latino Power Summit bring to San Jose? The workshops and panels held at the San Jose State University campus tackled different topics—from how to build your own website to the dos and don'ts of networking. However, the main conversation that surfaced from all these different discussions was clear: Latino Millennials have the potential to enact change in this country and to be more than just sought-after consumers. Indeed, according to the Selig Center for Economic Growth, the U.S. Latino purchasing power is approaching $1.5 trillion this year. In 2010 it was $1 trillion. Companies and marketers are noticing this trend. During a panel discussion, Dawson encouraged the Millennials in the audience to take that leap from being consumers to being creators. "What would you like to see yourself doing?" she asked them. "You're not just consumers—you are innovators." A dynamic speaker, Dawson explained to the audience, "The next generation is going to be reading about you in our history books—the ones who created that thing, that promoted that thing, that changed the face of the world." When it comes to Silicon Valley's tech industry, the sobering reality is that only seven percent of tech workers are African American or Latino (
see Working Partnership USA report
). This means that only a small percentage of underrepresented minorities are in the position to make decisions about new technology. It also means only a few Latinos are working in an industry where the average annual salary is $70k. One way for Latino Millennials to change those statistics and to generally become more empowered is through the political process, said Assemblymember Nora Campos. "We need to encourage ourselves and our family members and others that we need to start seeing civic engagement as a must, not an option," stated Campos. Another way to enact change is through technology, which Latinos are quite comfortable using. According to Kumar, Latinos went to their mobile devices in 2006 to help bring together 2 million people to march peacefully for comprehensive immigration reform. They were "the first people in the world to organize using technology in our streets," she said.
State Senator Alex Padilla, who was on the same panel, concurred: "Latinos are diverse, we're young, we're old, we're in the East Coast and West Coast. Our parents may not have email but we're on Facebook, Twitter and other social media." And sometimes a young person can become empowered just by doing something as simple as networking. Indeed, one of the biggest aims of the Voto Latino Power Summit was to create opportunities for participants to share their stories, exchange information, and network with each other. Sarahi Espinosa, a student from Cañada College in Redwood City, appreciated the panel on how to "schmooze." Silicon Valley Latino founder, Alex Ontiveros, was delighted to have participated in that panel as he and the other panelists shared numerous insights on effective networking which include the use of social media platforms. Sarahi will start incorporating these tips soon as she plans to become a leader in local politics. She attended Voto Latino because she wanted to "network with the right people." "A lot of the times I feel that we take a super long way to try to get somewhere when we just could have gone straight," said Espinosa before she left for the next panel. While the Voto Latino Power Summit tour reached its conclusion in San Jose, it is clear that Kumar and her team will continue to engage and inspire the next generation of Latinos for years to come.
Leave a comment
Comments will be approved before showing up.