Bel Borba Aqui Film Review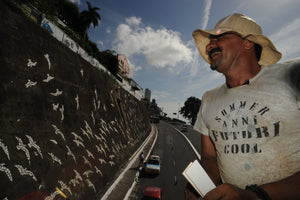 Meet Brazilian artist Bel Borba of
Salvador da Bahia
through an awe-inspiring documentary (English and Portuguese with English subtitles) about the man who loves his city as he, through his vast imagination and unlimited canvases, embellishes it. The film, written and directed by Burt Sun and André Costantini, opens with Bel and an assistant crew at a decayed building frame, and he talks about the history of other fallen structures just like it throughout the city, he paints the exposed metal beams with white paint using a small paint roller. When he is done speaking, the camera pans out and the metal beams come to life with the patterned mural made up of cultural expressions.
"People from Bahia are very much on love with our town," says Bel. "I have such a close relationship with my town where I was born, where I live."
He is considered a gift to his town.
We follow the artist through the city and neighborhoods to discover what inspires him and experience the passion for his culture, people and home town. The open market, a small ranch, his back yard and an old boat yard all attribute to images in his work.
"I am a man that is moved by  passion. I just feel things."
He works from small scale on single ceramic tiles to larger than life scale murals made of broken tiles –wood and ceramic – and his crew solders and saws out sculptures from steel and metal, as well. "There's my rocket!" Bel refers to a Christmas tree sculpture that he created from metal bars and plastic Coke bottles strung on rope; at night it is illuminated with green lights to be seen for quite a distance. Director Burt Sun says, "Bel has tattooed the city with his art." Live like Bel as he eats, sings, works and sleeps in this creative film production that incorporates ten lapse photography and animation techniques. Feel the artist's exhaustion while working on his masterpieces as he falls asleep on benches and the floor. One can almost taste the marinated steak dinner he cooks for friends. Feel free to sing along or whistle, if you know the tune, while he creates. The
Bel Borba Aqui
world premier will be featured Sunday, March 4 during
Cinequest 22 Film Festival
in San Jose at Camera 12 at 6:30PM and experience a live painting by Bel. Coming Soon the SVL exclusive interview with Director/Writer Burt Sun during the Film Festival!
Leave a comment
Comments will be approved before showing up.