BeVisible's Bay Area Holibay Meet Up!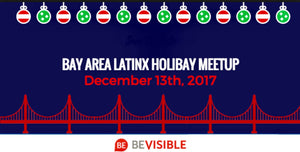 BeVisible Brings Together Bay Area Latinx Professionals for a Holiday Meet Up!
  BeVisible brought the Holiday Latinxmagic spirit to the Bay Area with their first San Francisco meetup on December 13th.  Over 60 Latinx professionals and friends gathered at
Alma Cocina
in San Francisco for drinks, socializing, and community building with the purpose to propel LatinX in the workplace.
The evening started out with mingling and introductions. Guest enjoyed delicious appetizers and sangria from Alma Cocina, a new Latin American/Peruvian cuisine restaurant in San Francisco. All around, Latinx professionals across the innovation sector, students, and trailblazers shared their passions and career interests. Members came together to link up to promote and uplift each other by growing their network to connect with new job opportunities and recruiters seeking mission-driven Latinx professionals of the BeVisible community. "It was inspiring to witness the community we have built all these years and to see Latinx uniting and gaining increasing access to the networks that feed the innovation economy" is how BeVisible's CEO and co-founder of the platform that connects Latinx to inspiring peers and job opportunities with forward-thinking organizations.
Special guest and BeVisible San Francisco Member, Marcela Davison Aviles, shared her experience working as the lead cultural consultant on the film of the season,
Coco.
Marcela emphasized the importance of telling authentic stories by and from the
comunidad
and harnessing the power of the Latinx community. Throughout the evening members were excited to share their career journeys, interests, and future goals. "BeVisible provided a space for us to come together and build community as Latinxs on a personal and professional level. There was a buzz of excitement in the air, one you feel when you truly feel at home"  states Karen Lazcano, BeVisible's Ambassador  
About BeVisible
BeVisible is on a mission to connect Latinx to opportunity to propel their careers powered by the strength of community to build and thrive together.  BeVisible launched
 BeVisible's Job portal
and partnered up with organizations doing remarkable work that are looking for great LatinX talent to power their company mission. Get connected by joining the community of LatinX changemakers
on www.bevisible.soy
Images taken by
: Josh Masenko Sanchez
http://joshmasenko.com/
Enjoy the event video below! https://www.youtube.com/watch?v=PgqkdC8V5EM    
Leave a comment
Comments will be approved before showing up.