Latinas in STEM "STEM 101 Conference"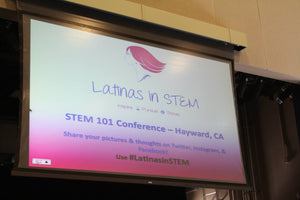 [flagallery gid=29]   On Saturday November 8th we had the great pleasure of experiencing Latinas in STEM's "STEM 101 Conference" hosted by the Dr. Martin Luther King Jr. Middle School. I was fortunate to attend the event as the conferences media sponsor as well as a parent because both of my children attended as participants. The event began with registration at 8AM and a light breakfast. This was followed by a heartfelt welcome and a very touching and inspiring keynote speech delivered by Patricia Millan, Sr. Research Statistician at Nielson. She shared her real life experiences as a high school student in a Latino household facing the challenges of dealing with familia expectations, exploring her prospective opportunities and simply trying for figure out how to best navigate the journey from high school to college. She was open and honest about how she and her family managed a difficult process and how they came out fine at the end of it. Her anecdotes seemed to genuinely resonate with the audience that was comprised of 250 students, parents, STEM professionals, sponsors and volunteers.   Once the keynote speech concluded the real fun began as some of the students went into either a hands-on STEM learning workshop or presentation on careers in STEM while the parents participated in a different workshop where they addressed what to expect as their students apply to colleges and how to best support them. The absolute highlight for the students was when they were instructed on how to build a Lego robot programmed to do a variety of actions. My daughter certainly enjoyed that one the best and is looking forward to the next Latinas in STEM conference.   Diana Albarran Chicas, co-founder of Latinas in STEM and Near Field Range (NFR) Test Section Manager at Space Systems Loral, spent sometime with us in order to conduct a brief interview. When we asked Diana how she felt the conference was going, her reply was "it's going very well. For us it's about impact, it's about connecting with these young girls and awakening the spark from within them and an interest in STEM while educating the parents on the journey and all the steps in between so that they are best equipped to support their girls as they apply to colleges and pursue their higher education." We also asked her how they were able to make all of this happen and her response was "It truly takes a village to execute at this level. Our village is composed of numerous committed volunteers and sponsors like Google, Cisco, Symantec, IBM, Chevron, Nielsen, NASA and collaborators like LISTAS, Winton Middle School, Latinovating by Grace Tiscareno-Sato and of course the Dr. Martin Luther King Jr. Middle school."   The conference concluded with special acknowledgements to sponsors, partners and volunteers as well as door prize drawing announcements. Silicon Valley Latino was honored to have participated as a media sponsor and looks forward to participating in the next one. Adelante Latinas in STEM!   For more information on Latinas in STEM visit
http://www.latinasinstem.com/
Leave a comment
Comments will be approved before showing up.