Monterey Bay Aquarium ¡Viva Baja! Life on the Edge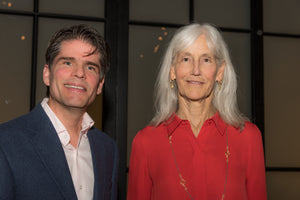 Monterey Bay Aquarium hosted VIP reception to inaugurate its newest exhibit  
¡Viva Baja! Life on the Edge
 on Saturday, March 20
th
.  From sun-soaked deserts to vibrant reefs, Baja California is a unique and fragile place. One of the most important stories told in this new exhibit – and one that few Americans are aware of – is that the Mexican people, and the Mexican government, are deeply committed to conservation of Baja's ocean resources. Jacques Cousteau said that life in these waters is so spectacular that it truly is "the world's aquarium." And the islands and marine reserves of the Gulf of California are a UNESCO World Heritage site.   Mexico and her people are leading the way in protecting the critically endangered vaquita porpoise, and fishermen in the Gulf of California are taking responsibility as stewards of marine life, especially in places like the marine reserves of Cabo Pulmo. It was a truly exceptional evening, which included assorted culinary delights, wine tastings from Scheid Family Wines of Monterey, special cooking demonstrations by award winning chef, Javier Plascencia and festive music by a meandering mariachi trio. 
Julie Packard
, Executive Director of the
Monterey Bay Aquarium
was delighted to host special guest 
IVES GABRIEL LELEVIERE RAMOS
, Under-Secretary of Tourism-for Baja California along with many other guests to this special grand opening. The VIP guest list was extensive and many Silicon Valley Latinos including Teresa Alvarado, newly appointed Executive Director of SPUR San Jose, Hilda Ramirez, Director of PR at the Santa Clara County Association of Realtors, Sonia Munoz, VP of Marketing at
Bill.com
, Celina Rodriguez, News Anchor/Analyst at Rodriguez Media Group, Linda Castillo, Founder and Executive Editor at Modern Latina and of course our very own Alex Ontiveros, Founder and CEO of Silicon Valley Latino were present. We would like to give a special thanks to Silicon Valley Latino Cultura Ambassador and Monterey Bay Aquarium Director of Marketing Programs, Lorraine Yglesias, for the invitation to this special event.
Leave a comment
Comments will be approved before showing up.