Biking Cuts Down Holiday Weight Gain, Keeps Family Time by My City Bikes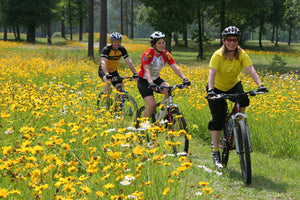 During the holiday craze its important to stay connected with friends and family in meaningful ways. Going for a bike ride lets you unplug and spend quality time together while being active. Studies show that on average Americans gain between one and five pounds over the holidays. Cycling at a leisurely pace of 10 to 12 mph burns about 40 calories per mile. Its easy on the joints and can be done almost anywhere. Biking is a family friendly activity that just about anyone can do which helps counteract the negative effects of the season's indulgent meals. Consider skipping one holiday feast this year and going for a family bike ride instead. Check the Silicon Valley Bikes app to find local beginner-friendly trails in the "Recreation and Touring" section, and go for a ride.
My City Bikes is a public health project to benefit communities across the United States by providing a simple mobile resource to inspire and facilitate cycling. Whether for fun, fitness or transportation, My City Bikes is a definitive guide to cycling opportunities in communities nation-wide. My City Bikes along with its network of beginner-friendly bike shops and local municipal governments are bringing beginner biking resources to home towns across the United States to empower individuals to improve their health by simply pedaling a bike. Visit
http://mycitybikes.org.
  Tell us how you spend quality time being active with your family.  Happy Holidays!
Leave a comment
Comments will be approved before showing up.