SmileyGo bringing smiles to Nonprofits & Corporations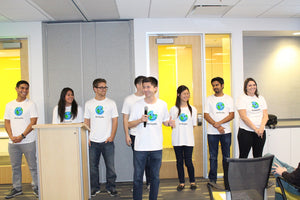 SmileyGo (smileygo.org)
What's your elevator pitch? What problem are you trying to solve?
SmileyGo
(www.smileygo.org) is the tech platform that is integrating the corporate world with the nonprofit sector, matching the philanthropic needs of a company with the requests of a nonprofit. We are creating opportunities to bring positive results in the fulfillment of CSR efforts and societal needs across the globe. So, what is the problem? Nonprofits spend more than 40% of their time plus an allocated percentage of their budget on fundraising, which often distracts them from focusing on their mission. At the same time, companies spend a tremendous amount of time and money on PR and marketing, often searching for nonprofit alliances and community outreach opportunities to align their brand with. This diverts their focus from meeting and exceeding their customer's needs and expectations. Ultimately, Corporate Philanthropy is difficult work and that is why we are working on a product that will automate and facilitate this process, while maximizing social impact on a global scale. Via SmileyGo, we are streamlining the CSR process and helping companies do philanthropy more efficiently, via our low-cost, online platform, while generating greater social impact and smiles around the world.
Is this your first start-up venture?
SmileyGo is the first for-profit global venture for many of us. Having a diverse team working together to solve a global problem, we all bring different experiences to our team, and most importantly, we all share a passion for helping others make the world a better place. Pedro started a non-profit when he was 16 during high school: www.yatayperu.com, a social enterprise connects teachers in American Schools in Peru with local Andean children in the highlands. Michael also founded two ventures, Conservosmart, a solution for kWh usage within homes, and MultiSite Professional (
http://www.multisiteprofessional.com
), a reliable, personal option for website development. Maria who is passionate about civic technology founded encire in 2014, which is an online platform that connects users to key information on the issues that affect their social, political, and economic lives. Dante founded esQela.org last year, an ed-tech platform to empower Latino students in their Quest to attaining higher education. By working together, we leverage our passions and experiences to develop a unique solution to making it easier for companies to make smart investments with long-lasting social impact.
What inspired you to do your start-up?
The SmileyGo Team shares an innate desire to help others at a global scale. We all possess the SmileyGo DNA: passion, drive, and energy. We all have a passion to help others, the drive to revolutionize corporate philanthropy, and the energy that is required to change the world. In particular, the life experiences of Pedro David Espinoza and Dante Alvarado-Leon revolved around giving back to their communities. Both having lived in developing countries in Latin America saw the need to create solutions to help those in need and took action at a young age. Pedro's main inspiration came from looking at all of the opportunities and positive impact his mother's nonprofit created for young women in Peru. When he met Juana, a young woman from the Anders region of Peru, who told him that her future was going to work on a farm, Pedro and his mother helped her and opened the door for many opportunities for her. In the end, Juana enrolled in a higher education institution and graduated as an engineer. Similarly, Dante was inspired by the stories of children he met at an orphanage that he volunteered with his family in Mexico. Dante recalls the words of one of the children in an orphanage in the city Tijuana who told him, "I want to be like you and help those in my community when I grow up." Ever since that day, Dante continued to give back to his community through service and by using his education to help those around him. These two stories combined with the diverse backgrounds of all of the members of the SmileyGo team led to the creation of SmileyGo, a global venture aiming to stimulate companies to give back to nonprofits at a global scale. 4. 
How do you see your start-up disrupting the space it's in?
SmileyGo is taking the lead in showing that companies as a whole can give back in a meaningful way that has a lasting impact. Other organizations may encourage individual employees to go volunteer or make donations toward a certain non-profit. However, at SmileyGo we want to make sure that companies - not just the individuals that comprise it - are socially responsible and that the resources being donated are being used properly. We strive for a simple, straightforward process that creates transparency. This transparency won't only be helpful for consumers and companies, but will hopefully get non-profit organizations to effectively allocate and manage resources. Ultimately, we wish to revolutionize the way business is done, and prove to the corporate world that business is not only about making revenue, but it is also about creating impact, and that companies can do well by doing good.
What type of impact do you envision your start-up having in the market?
We see SmileyGo as the catalyst for companies to do well, while maximizing social impact worldwide. By directing philanthropy toward charities and non-profits that will effectively use it, we aim to encourage more corporations to give back to communities in need around the world. Here at SmileyGo we are revolutionizing the way business is conducted. We want to make companies more aware of the needs of the world, and make it easy for them to become catalysts of change. Essentially, we are streamlining the process for both the non-profits and companies and helping them collaborate to help each other out. By matching the requests and needs of a non-profit with the resources and funding of a company via our tech platform, we will be able to foster a win-win situation and help companies make smart investments that will have long-lasting impacts on the non-profits.
How did your team come together?
The co-founders, Pedro David Espinoza and Dante Alvarado-Leon brought together a diverse and talented team that shares the same vision and passion for a global cause. SmileyGo naturally attracts those who are passionate about corporate social responsibility and want to see a change in the way businesses give back to society, help non-profits in their struggle for resources, or a combination of the two. Our team is comprised of students from around the world, from the U.S., Mexico, Colombia, China, India, Africa and many other places. Most of us met at the University of California, Berkeley, and since then we have become a family of student leaders and young entrepreneurs with the vision to change the world, the heart to help others, and the spirit to dream big.
    How has your startup journey been so far?
The start-up journey has been quite a thrill thus far. We are always making progress, but the progress has been far from anything like a straight, upward line towards success. The journey has been filled with twists, turns, loops and sometimes backtracking too. But through the entire process, we learn more about our company's goal as a whole and have a deeper understanding of what we need to implement to create the best possible product. We are not the typical startup that rushes, seeks money and never sleeps. We rest, we bond, we are a family of winners, students, young leaders and learners. We have had to make many sacrifices to develop and create a global solution to corporate philanthropy, however, we have a passion for what we are doing that drives us to keep on going. To sum it up, our journey so far has been one of the best experiences in our lives. All of the work we put in every day, all the miles we have traveled together, and all of the time we have spent together to make our idea come to life has shown us that SmileyGo is our passion. We, the SmileyGoers, all share a common dream to work together as a family of young leaders and entrepreneurs. At the end of the day, we want to inspire and encourage others, especially our generation to dare to dream big, to be innovative, and to embark on their own entrepreneurial journeys to develop solutions to the challenges that we are facing today, while always remembering to smile.
What would you like to achieve during your time with Manos?
During out time in the Manos Accelerator, we hope to achieve a clear direction in which we will head, so we bring to clarity to the problem we are solving, the solution we are providing, and how we can be sustainable throughout the process. At the moment, we are working towards developing an attractive, innovative, and concrete business plan that will allows to develop an efficient platform. One thing that Manos has definitely helped our company with--as a result of mentors and the number of resources we've been given--is setting a stable and simple foundation for what we aim to do and how we will implement an effective plan to create our tech platform to produce greater social change. By Demo Day, we hope to have a working and updated prototype so that we can begin connecting the corporate world with the nonprofit sector.
    What type of funding are you looking for?
We are looking for seed funding, so that we can build the most efficient and reliable tech platform and stimulate our progression with SmileyGo. By the end of the summer we will possibly look for angel investments, if needed.   If you are part of a Latino owned startup and would like to be featured and connect with our Cultura Ambassadors please reach out to us via our website or any of our social media channels.
Leave a comment
Comments will be approved before showing up.