SVL Thank You Dinner 2021!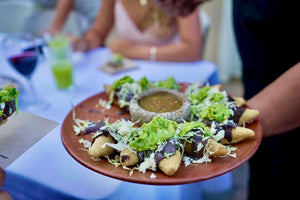 On Saturday, August 14th our team at SVL had the pleasure of hosting some of our clients and collaborators for our inaugural Thank You Dinner. The dinner was graciously sponsored by our friends at Agave Uptown and chef/owner Octavio Diaz. We enjoyed an amazingly delicious authentic Oaxacan meal which featured Agave Uptown's signature moles (Mole Negro & Mole Rojo), chicken, carnitas, grilled seasoned vegetables and Octavio's Caesar's Salad. We also enjoyed Aldina Vineyard wines and topped off the dinner with Mexican Cookies, flan and Pepito's Paletas for dessert.
As we prepare to celebrate our 10 Year Anniversary it was important for us to make the space and time to acknowledge and thank our clients and collaborators because they have given us opportunities to earn their business and collaborate in producing/delivering exceptional solutions respectively. We launched the SVL venture as a media company close to a decade ago because we believe in our community, all that we are and all that we can be. We have been delighted to see many organizations from various spaces and industries (tech, corporate, healthcare, government, small business, start-up, and nonprofit) reciprocate by believing in us and giving us the opportunity to earn their business. As a result, about 6 years ago SVL stepped into the creative agency space and we've grown into a complete solutions agency (design, photography, video production, campaign management. PR, branding, and business development) all through the art of authentic and compelling storytelling. 
Regrettably, not all our clients and collaborators were able to attend our inaugural appreciation dinner so we will host another one soon, stay tuned. However, at this time, we would like to thank and acknowledge all our clients, collaborators, and sponsors by listing them below.
Clients/sponsors:  
Agave Uptown, Ayudando Latinos A Soñar, Kaiser Permanente, Santa Clara University, San Jose Evergreen Community College District, Cisco, Palo Alto Networks, Genentech, Kloudspot, Cyber Lantern, Oracle, Charles Schwab, Yerba Buena Engineering, Fremont Bank, Google, IBM, County of Santa Clara (RRC), Latinas Contra Cancer, Comerica Bank, Manos Accelerator, Blyve SGI, Monterey Bay Aquarium, The Avalos Foundation, Shop with a Cop of Silicon Valley, Alcario & Carmen Castellano, The National Hispanic University, Cañada College, LISTAS, Pepito's Paletas, Delta/Aero Mexico, Aruba Networks, Morgan Stanley,  Study.com, Pahl & McCay, The Foundation for Hispanic Education, San Jose City College, Omniscient, ABC7, Bill.com, YWCA, Philanthropic Ventures Foundation, Bethinketh, LLC Tony Quintero, Active Auto Body, HITEC, Marissa Gaska, Olmos Insurance Agency, ATAX, Carry the Vision, Law Foundation of Silicon Valley, Mezcal Restaurant, Chacho's Restaurant, Vino Latino, Blach Construction, The Chapultepec Group, Edible Arrangements, Maya Upholstery, Bank of the West, MJLaw, 5Run, Liquid Agency and Perezidential Homes.
Collaborators:
Joe Poni, Josh Sanchez, Jason Rivera, Oscar Sotelo, Rodrigo Pedraza, Tanisha Poni, Dr. Belinda Arriaga, Joaquin Jimenez, Mayra Mejia, Dan Gutierrez, Fanny Diaz, Ivan Reyes Martinez, Christian Murillo, Gabriel Lomeli, Fernando Cowan, Ricardo Garcia Rangel, Sharon Sim, Victoria Sanchez de Alba, Pimentel Family Wines, Aldina Vineyards, Guerrero Fernandez Winery, Alycia Aguirre, Andrea Guendelman/BeVisible, San Jose Jazz, North Fair Oaks Festival, Diana Estrada, Jose Posadas, Adam Mendoza, Guadalupe Carrillo, Rico Park, Anita Garcia, Eydie Mendoza, Carlos Perez, Theo Mendoza, Gina Miranda, Lilian Peña, Julia Quiroz (intern), Daniela Alcaraz (intern), Liliana Ontiveros (intern) and the entire Ontiveros family.
We would also like to remind you that when you hire us for a project, campaign, video production, etc. you are also supporting an ecosystem of collaborators and freelancers form our community.
And of course, we would also like to thank our countless Cultura Ambassadors and all our CreoEnTi Business Ambassadors for your continued support over the years. 
Lastly, we would also like to thank our Advisory Board.
Michael Archuleta, Nancy Rosales, Arnoldo Avalos, Jose Benitez Cong, Katty Coulson, Rich J. Garcia, Jose (Pepe) Gomez, Dr. Maria Hernandez, Marisol Morales, Jesse Martinez, Lilian Peña, Tony Quintero, Sylvia Juarez-Magaña and Angel Chavez.
¡Mil gracias a todos! Thank you all!
#Adelante #CreoEnTi #CreoEnNosotros
Alex Ontiveros & Sergio Domeyko
Leave a comment
Comments will be approved before showing up.