CRISTO REY SAN JOSÉ COLLEGE SIGNING DAY 2022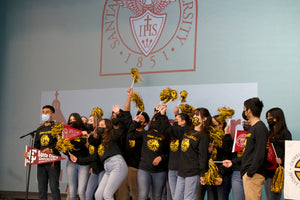 CRISTO REY SAN JOSÉ COLLEGE SIGNING DAY 2022

It was an exciting day at nearby Cristo Rey San José Jesuit High School last week, located in East San Jose, where they celebrated in-person for the annual College Signing Day rally and celebration. Nearly 500 family members, school mates and community friends gathered to celebrate the class of 100+ seniors.  Almost all these students are the first in their families to attend college!
Cristo Rey is unique in that students help earn their scholarship by working all four years of high school as part of a corporate work study program. They gain professional skill development, mentorship and access to networks as they work in companies such as Nvidia, Google, Palo Alto Networks, Microsoft and Cisco to leading law and accounting firms as well as non-profit organizations throughout Silicon Valley.
Seniors have received acceptances from over 600 colleges and universities in California and nationwide, including institutions such as Cal Poly, UC Berkeley, Stanford, Santa Clara University, San José State University, Columbia, Brown and UCLA. What a wonderful time for these young adults to have accomplished so much despite the challenges of the past two years. Their persistence and determination have gotten them to this important milestone and will help them in their college journey.
To view a video of the highlights of College Signing Day,
click here.
To learn more about the mission of Cristo Rey San José Jesuit High School,
click here. 
Leave a comment
Comments will be approved before showing up.