LTX Fest 2019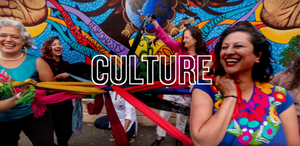 This week, to celebrate Latino Heritage Month, Kapor Center, Latino Community Foundation and Latinas in Tech will be bringing us an event spanning four days where tech and philanthropy will come together to celebrate the rich culture that we bring to the table! 
Pitch competitions, Art, Healing Activities, Panel Discussions, mini-TED talks & the general promotion of all Latinx will be the highlight of this event. 
Tickets available here => https://ltxfest.com/tickets/
The Latino Community Foundation Celebrates Latino Heritage Month by Investing in Community Organizations with Events Across the Bay Area 
Events include the four-day LTX Fest which brings together tech and philanthropy to 
disrupt philanthropy, promote innovation and take collective action  
The Latino Community Foundation (LCF) is proud to share the culture, beauty and contributions of our community during Latino Heritage Month with events across the Bay Area. 
"Latino Heritage Month is the perfect opportunity for the Latino Community Foundation to amplify the work we do year-round — unleashing the power of Latinos across California by using the healing power of culture and harnessing our collective love, creativity and generosity," said Jacqueline Martinez Garcel, LCF CEO. 
The cornerstone of LCF's celebration will be LTX Fest — a one-of-a-kind event merging tech and philanthropy taking place in San Francisco and Oakland Oct. 8-11. LTX Fest will convene 1,000 Latinx visionaries across 4 days and 2 cities. The goal is to bring together tech and philanthropy with a focus on culture, innovation, and people. LTX Fest brings together the visionary work of Kapor Center, Latinas in Tech and Latino Community Foundation.
"LTX Fest will truly ignite a movement that celebrates Latino culture, innovation and civic power," said Amber Gonzales Vargas, Senior Program Manager at LCF.  "Now more than ever, we must create spaces where we can honor our leaders, celebrate our culture, and continue to build our collective power by leveraging tech." 
LTX Fest Opening Day- October 8th, curated by the Latino Community Foundation will feature mini-TED Talks, spoken word, youth hip hop performances, a love letter writing station and big mural painting session. There will also be panel discussions on a range of topics including reclaiming philanthropy for the people and the power of the Latino vote. 
The event will also provide an opportunity for healing which is especially critical following this summer's violence and current political climate. LTX Fest has partnered with Latinx Therapy to provide one-on-one therapy sessions, resources and referrals, and a group-healing circle.
The first two days will take place in San Francisco at the Hibernia Bank Building. The final two days, LTX Fest heads across the Bay Bridge to the Esports Arena in Oakland.
For a complete list of speakers, click here. The four-day agenda for the event can be found here. Tickets can be purchased for one day or for the entire event. To purchase tickets, click here.
Additional October events to commemorate Latino Heritage Month include:
We hope to see you at these events!
Leave a comment
Comments will be approved before showing up.