Brian Evans and second chance employers: A Success Story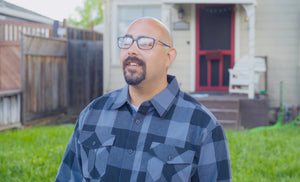 Former Reentry Resource Center client Brian Evans uses his past to mentor peers towards community integration and successful employment opportunities.
Brian Evans, Lead Peer Mentor at Goodwill of Silicon Valley's New Opportunity Work Program (NOW), helps prepare reentry clients from jail and prison for employment. He's an excellent mentor. He's optimistic, has a passion for helping people and knows intimately how it feels to be estranged from family, addicted and incarcerated. He's spent most of his life in and out of the system.
Once he was ready to break that cycle, he sought help at the County of Santa Clara Reentry Resource Center (RRC) which connected him with resources for both his immediate needs, like food, and his long-term ones, like employment. Through the NOW Program, which the RRC funds, Evans worked his way up to Lead Peer Mentor.
NOW offers participants immediate part-time employment in a variety of jobs within Goodwill. It also provides services such as resume preparation, job interview techniques, and behavioral therapy. After 90 days NOW helps participants transition to full-time employment in the community. But a criminal record often prevents them from even getting to the interview process. Many are highly motivated to make a new start and to utilize the job training skills they receive at NOW.
Some companies in the Bay Area are stepping up to provide jobs to people with criminal records. ARM-Elite Construction Inc. of Hayward and the Santa Clara branch of PeopleReady Skilled Trades are two of those companies providing jobs in skilled construction trades.
Nonprofits are also doing their part. Through the Trades Orientation Program, Working Partnerships USA, in collaboration with work2future, NOVA, San Jose City College, and the South Bay Consortium for Adult Education, provides apprentice readiness training, assessment and placement for entry-level apprenticeship jobs in construction trades like plumbing, carpentry, sheet metal, ironwork and many more. Roughly one-third of their participants have criminal records. Thanks to partnerships with the Santa Clara Building Trades Council and its affiliated unions, apprenticeships and employers, graduates can enter construction careers based on their abilities and commitment, without regard for their background.
The San Jose Conservation Corps. Charter School (SJCC+CS) hires 18-27-year-old young adults providing them both full-time and part-time employment, schooling to earn a high school diploma, as well as uniforms, meals, public transportation and college scholarships. SJCC+CS partners with the Santa Clara Valley Water district, Santa Clara County Parks Department, and the cities of San Jose, Cupertino, Milpitas, Palo Alto, Los Altos and Campbell. These public entities provide paid employment for students in environmental and community projects involving landscaping, fuel break construction, trail building and solar energy.
Giving a reentry client a job, a purpose, a chance to give back, can mean the difference between successful reentry or returning to jail. Employment not only supports that individual but their family and our community by reducing crime as well as the cost of incarcerating people.
"When you give individuals a responsibility and an opportunity to rise to that level of responsibility, they do it," said Pablo Gaxiola, Goodwill NOW's Reentry Program Manager. 
Evans is taking his opportunity and running with it. He's not only excelling at Goodwill; he is also a student at San Jose City College pursuing certification to become a drug and alcohol counselor so he can help more people.  
"I'm living whole with a pay it forward mentality," Evans says. "For the first time in my life, I'm a father, husband, friend, and son. I can finally say I'm home."
Leave a comment
Comments will be approved before showing up.