Edward James Olmos interview (Part 2)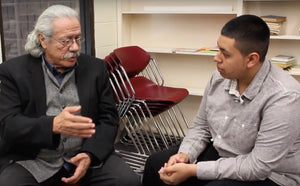 Silicon Vally Latino had the pleasure of spending some time with the one and only Edward James Olmos prior to his interview with Cultura Ambassador Rick Najera as part of the Latino Thought Makers series. Mr. Olmos was gracious enough to allow our intern Roberto Alvarez, sophomore at the Luis Valdez Leadership Academy, to interview him. Roberto asked some great questions and Mr. Olmos shared outstanding wisdom with him. Take a moment to view the interview and share it with those in your networks.
Great job Roberto!
Leave a comment
Comments will be approved before showing up.