"Egyptian spell on Silicon Valley" by Elena Martina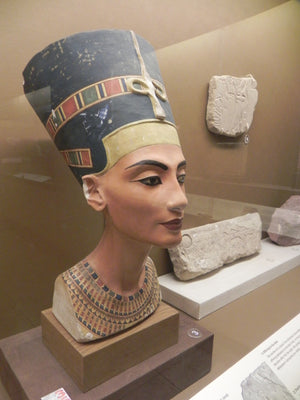 An Egyptian Museum in Silicon Valley? That is exactly how I responded; surprised, when someone told me that there is an Egyptian museum in Silicon Valley.  He recommended it as, "A wonderful place to visit." So one sunny weekend, I took his advice, grabbed my camera, and headed there to find out what it was all about.  Free parking was available at the back of the museum and after a short walk to the main entrance I came face to face with its architecture, greenery, and gardens.  A low entry fee of $9.00 allowed me to get in, where I was told that I could take pictures, but without a flash. I was so intrigued that I put thoughts in my mind about this visit and expected something grand, and got it.  The front interior was dark, giving the impression of mysterious elegance, but it was well illuminated in display areas.  Slowly but surely, I started looking at all their art and historical descriptions at different floor levels.  Amazed at the variety of items displayed, some I could actually touch and watch at a very close range without anyone telling me to back off.  I also learned that the museum was established in 1928 and it was architecturally inspired by the Temple of Amon at Karnak and houses the largest exhibition and collection (over 4,000 items) of Egyptian artifacts in Western U.S.
The museum's actual name is The Rosicrucian Egyptian Museum. "Rosicrucian" is an international organization specializing in the ancient mystic, devoting their studies to mystical, philosophical, and religious doctrines concerned with their application to our modern life. As I was taking several photographs I kept looking back at my pictures to make sure they were good.  I knew then that I would be writing a piece about it, and glad it has come to be months later.  The museum is very interesting! And yes, there are a couple of Mummies in visible cases you can lean on for further inspection.  A ten minute video showed how ancient Egyptians embalmers rolled up their dead in wraps, after taking out fluids and internal organs.  A modern medical machine is now able of seeing through these corpses without unwrapping their ancient cloths. By reading the museum posts, I learned that Egyptology is the study of ancient Egyptian history, language, religion, and art, and that Egyptians loved their cats and considered them protectors of their homes.  Most cats were called Ta-Mieuw, or "The Meower," and were very spoiled. Some even wore jewelry and got embalmed just like humans.  A household cat was mummified and given a burial after death.  
I also read there were dozens of Egyptian dynasties, but the first two from 3000-2800 B.C.E., showed typical characteristics of Ancient Egyptian culture; language, architecture, art styles, construction, administrative organization, calendar, weights, measures, and royal activities; were important enough to leave a legacy and where the Step Pyramid construction technique started.  In my many observations, I came across a black flat stone, and after reading what the post said, it turned out to be a copy of The Rosetta Stone.  I thought that Rosetta was a language learning tool, but how wrong I was. It used to be an ancient village in Egypt where the stone was discovered, by accident, in 1798 by one of Napoleon Bonaparte soldiers.  This stone was "key" for early researchers to decipher ancient Egyptian writings! Once I had visited all the museum levels and left the main building, I was happy to have found such treasure in Silicon Valley.  What greeted me afterwards were outdoor gardens that included an Egyptian game floor that looked like checkers, but wasn't.  I then leisurely meandered around, zigzagging the green areas and gods and goddess statues seemed to greet my every turn.  As the museum does not have a cafeteria, I would recommend visitors to bring a picnic basket and sit at the Peace Garden for lunch, while listening to a waterfall nearby. And I leave you with an Egyptian proverb that says, "Stretch your legs as far as your blanket extends" which means: "Don't live beyond your means." Want to know more? Check out their very educational website at:
http://www.egyptianmuseum.org/
Address: 1660 Park Ave., San Jose CA. Hours: Wed - Fri: 9:00am to 5:00pm, Sat - Sun: 10:00am - 6:00pm, Mon - Tue: Closed. The Museum is also closed on: New Year's Eve and New Year's Day, Easter Sunday, Independence Day, Thanksgiving, Christmas Eve and Christmas day.
Leave a comment
Comments will be approved before showing up.