Paty Millán Montensinos' El Pirata y su Parche Mágico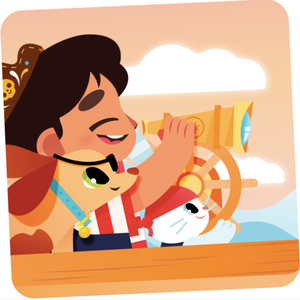 As we love to highlight and promote our Latine Leaders, we are excited to shine a light on Paty Millán Montesinos, a trailblazing first-generation Latina whose inspiring journey through the tech industry spans over a decade. Originally from Livingston, California, Paty's roots trace back to her courageous immigrant parents who migrated from Michoacán, México. 
Her career, from Data Scientist to Principal Product Manager at ServiceNow's esteemed Platform Analytics team, has solidified her reputation as a leader in the tech industry.
Paty's advocacy for Latinas in technology earned her the esteemed "Un Hispano que Domina" recognition from Nissan in 2017, reflecting her profound impact. She's a mentor who passionately shares her STEM journey, inspiring future generations to chase their dreams.
In 2022, she authored "The Hungry and Humble Journey into Tech," a series of personal stories shedding light on the Latinx and Allies in Technology. Paty's commitment to uplifting others led to her being featured in Puente Project's Career Major series in 2023.
Beyond her career, Paty's role as a mother to Marcello Millan Montesinos, who battles Coats disease, fuels her mission. She authored "El Pirata y Su Parche Mágico," a bilingual children's book addressing vision impairment representation. This captivating tale encourages kids to embrace their inner pirates and learn valuable lessons through adventure.
Paty's journey is a testament to her ambition, compassion, and commitment to diversity and inclusion. She's an influential role model for aspiring Latinas in tech, encouraging them to chase their passions. Keep an eye out for "El Pirata y Su Parche Mágico" as it promises to enrich children's lives with its inspiring message and captivating narrative.
Read all about Paty's up-and-coming book and why she wrote it. 
"In 2022 my son was diagnosed with a rare eye disease called Coats' disease. While the disease has no cure, we were so fortunate to catch it in time and prevent him from going blind in his left eye. Since his diagnosis, he has been required to wear an eye patch for a few hours per day. Like most toddlers that is a struggle. To motivate my son to wear an eye patch, I searched for bilingual children's books focused on vision impairment and wearing an eye patch. As you can imagine, I couldn't find any. So, I decided to write my own. After prototyping one with web images cut out and pasted on a blank board book, and testing with my son and his preschool classmates, I am happy to say I will be self-publishing this Fall and have it officially on Amazon, Barnes and Noble, BookBaby, and many other platforms by October 23, 2023. 
What I love about writing and publishing this book is that it truly comes full circle. Being a Latina in Tech has given me the opportunity to invest in myself and provide opportunities for others. I made it a purpose to find a Latinx illustrator who would not only bring the story to life but who could make sure their illustrations connected with the Spanish language, vision impairment, and people of color. My son truly sees himself in the book and that was the goal. My illustrator is Mariana Díaz Hernández, Mexicana from Jalisco. El Pirata y su Parche Mágico is the first book she has illustrated and I'm so happy that I was able to give her that opportunity because she's an amazing Graphic Designer and Illustrator."   
Join us in supporting Paty as she enriches children's lives with her captivating narrative, addressing vision impairment representation and encouraging young minds to embrace their inner Piratas.
Stay tuned for the official release of "El Pirata y Su Parche Mágico" on October 23, 2023, available on Amazon, Barnes and Noble, BookBaby, and other platforms. Let's come together to champion diversity, inclusion, and empowerment through literature, and help make a difference in the lives of children everywhere.
Leave a comment
Comments will be approved before showing up.