Salsa-ing Your Way to Healthy Happiness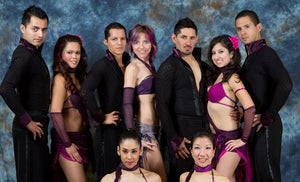 One, two, three, and five, six, seven,
these are counts to the rhythm of the classic, but ever so popular, salsa dance. Some dancers think of salsa dance as therapy, others as the best way to stay fit, and for some as perhaps the best way to socialize. Whatever the reason may be, the salsa scene in the San Francisco Bay Area is beyond thriving and offers unlimited benefits to its faithful dancers.
There is a salsa social every single night of the week, each one an opportunity to express yourself through shines (footwork), spins, body rolls, shoulder shimmies and lots of smiles. Hector Reyes, founder of MamboNova Dance Company says, "Salsa is my time to express myself through body movement, what I can't express through words I reflect through my dancing and teaching." Reyes' company is doing more than just teaching partner combinations; he is teaching others a new a way to live, laugh, make lasting friendships and embrace Latino music. As if those are not enough reasons to jump into the salsa scene, according to the National Heart Lung and Blood Institute, dancing is a great way to reduce blood pressure, maintain a healthy weight, lower the risk for coronary heart disease and strengthen the bones of your legs and hips. "When I say I dance salsa my non-dancer friends, they automatically assume it is a Latino thing," said Juan Benitez, student at MamboNova, "but what I love the most about the scene is that people of all cultures come together to enjoy an authentic Latino tradition." On average, MamboNova's monthly socials attract close to 200 eager
salseros
and
bachateros
from all over the Bay Area, from blue collar to white collar attendees, the atmosphere makes for a perfect melting pot. 
Salsa dancing makes for a perfect activity no only for its heart healthy benefits, and social engagement aspect, but for its mental benefits as well. Salsa dancing is stimulating to the mind, as it requires coordination and memorization. A 21-year study by the New England Journal of Medicine discovered that dancing reduces the risk of Alzheimer's disease and forms of dementia in the elderly. Besides all the health benefits, salsa dancing is a great way to network and relieve the all too common thing called: stress. Whether you are looking for a new way to engage in a healthy lifestyle or simply meet new people, salsa dancing will provide you for exactly what you are looking. "I am a dancer, that's how I was born and that's exactly how I will die; I will stop dancing the day my heart stops beating.", shared Hector Reyes, "My entire being will always dance to the rhythm of a melody." To learn more about the MamboNova Dance Company you can find them at
mambonovasf.com
Photos courtesy of
MamboNova Dance Company
Leave a comment
Comments will be approved before showing up.