Alex Llamas - Llamas Family Wines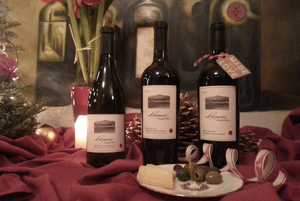 Llamas Family Wines:
A few years ago while working at a tasting room in Napa Valley, I met a young gentleman who told me he was going to make his own wine.  He was bursting with excitement.  Now, six years later, he's at my kitchen table sharing that wine with me and telling me his story.   Alex Llamas
Llamas Family Wines
Napa Valley Wine Produced: Sauvignon Blanc, Chardonnay and Cabernet
SVL
: It's so wonderful to see you again!  Six years ago you told me you would be coming out with your own wine and here you are!
AL
: '08 was my first vintage.
SVL
: Where were you born Alex?
AL
: Well, there's a difference between where you were birthed and where you graze.
SVL
: Ok, so where did you "graze?"
AL
: I was born in Coachella California but moved to Guadalajara, Mexico near Chapala.
SVL
: So when did you come to the US?
AL
: Well, that's an interesting question.  My parents had a migratory pattern where we spent 9 months in the US and 3 months in Mexico.  We would start in Coachella to pick Thompson grapes.  Then we would move to Fairfield, CA to pick pears.  Then back up to Oregon to pick cherries and almonds.  On our way back to Mexico we would stop in Corning to pick olives.
SVL
: How did you end up in Napa?
AL
: One year the sugars were not right in pears in Fairfield.  Needing work, my father and my uncles went to Napa to pick grapes.  Based on just one day of them working, they were offered full time jobs by a vineyard.  We spent a couple more years as migrant workers but eventually settled in Napa full time when I was about 13.
SVL:
What about school?
AL
: My mother put me in school as much as possible.   I've gone to 17 different elementary schools.  However, I was able to graduate on time and with honors at Vintage High School in 2008.
SVL:
How did you get into wine?
AL
: My father developed an affinity for wine from working for wineries so I tasted wine from a very young age.  But after high school I knew that I wanted to travel the world, especially Europe, so I looked for a job.   I landed a job as a busser at Mustards, then Domaine Chandon which eventually led to a job at The French Laundry.  Thomas Keller, who owns the French Laundry, put me on his team to open his restaurant, Per Se, in New York.  By working at all these high-end dining establishments I was exposed to wines from all over the world.  With the money I saved I went to Europe where I was able to learn more about wine.  By 2005 I knew that I wanted to make my own wine.
SVL
: Who are your partners in Llamas Family Vineyards?
AL
: Really, my entire family.  My business partner is my Uncle Oscar and his wife, Lola.  But through our family connections we are able to source fruit from some of the best vineyards in Napa Valley including Stage Coach.
SVL
: Besides wine, what do you do for fun?
AL
: I loved soccer until I tore my ACL.  But ever since 1998 I've really enjoyed spinning records (DJing).  I've DJed many parties including Thomas Keller's engagement party.  I also love art and cooking?
SVL
: Wow, what a great story you have Alex.  Thank you so much for sharing it with us!!   If you would like a tour or tasting of these wines please reach out to Ramon or Becky at
Vino Latino USA
Leave a comment
Comments will be approved before showing up.