"New Wineries, New Traditions"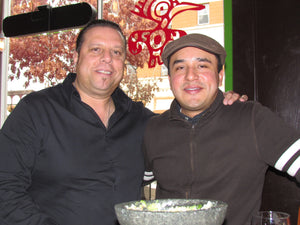 "New Wineries, New Traditions" by Becky Tyner Sandoval The holidays are a time for traditions.  Some are old, some are new, and it all depends on what is happening in our lives.  The wineries we work with are family owned; yet many of them are fairly new.  Here are three Latino family owned wineries and how they have incorporated new traditions with old ones to embrace their wine careers.  
Gerardo Espinoza, vintner and winemaker for Vinedos Aurora in Lodi, and his family began experimenting with wine about 10 years ago.  As a hobby they would make wine from their vineyards every year.  That first Christmas, ten or so years ago, after their first harvest, they could hardly contain their excitement about their winemaking project. They were so excited that they took barrel samples and served them with their Christmas dinner and made projections about what the wine would be like in the future.  This has been their tradition ever since then.  However, this past year was a bit different, now that Gerardo makes wine professionally, he also brought along the finished project to share with his wine loving family.  
  Jess Castillo of Castillo's Hill Shire winery in Morgan Hill has always stayed true to his Mexican roots.  During Christmas he makes tamales.  Yes, HE makes them, his wife Rhoni Jo decided that while she certainly could lend a helping hand, the tamale making was up to him.  Now that they own their own winery they've decided to share this tradition with their wine club members.  Every year they make homemade tamales and serve them to their wine club members at their home.  Guests not only get to eat delicious food, but they also get to enjoy music from Jess' wife and their two kids, Nate and Vivienne.      
While you are diving down Westside Road in Healdsburg you might notice a big gift.  The gift is the theme behind Gracianna.  The Amador family got in the wine making business when they caught their 15-year-old son, Trini IV, making wine.   This led to Trini IV working for several well-known wineries in Sonoma Country to more recently, his parents investing in his dream to create their family winery, Gracianna.  Mexican on Trini III's dad's side, Gracianna is the name of his Basque grandmother who led an adventurous life during WWI and taught them many lessons about love, family and gratitude.  The gift, that is their logo, is a reminder to everyone to remember what they are grateful for and to remember those things are the biggest and greatest gifts we could ever receive at Christmas time.   This Christmas, as you celebrate your holiday traditions, old and new, remember that those traditions along with respect are what make us successful Latinos.  The wines we feature are from real Latino families that have succeeded in this industry and in this wonderful opportunistic country.
Leave a comment
Comments will be approved before showing up.