Wine Dos and Dont's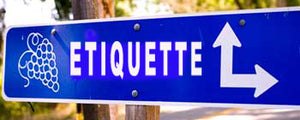 "What is the proper tasting room etiquette?"
This is a question I appreciate, yet feel hesitant to answer.   I feel hesitant because I don't want people to feel more intimidated by wine than they are already.  I feel hesitant because I often think the staff needs to be more worried about etiquette than the guests.  I feel hesitant because I'm kind of a free spirit and don't like a lot of dos and don'ts.
However, after posting the question on facebook and really thinking about it, I realize there is indeed some etiquette that when followed will make wine tasting a lot more enjoyable for everyone.  
TIPPING
:  We get this question a lot.  So here it is, tips ARE NOT expected by tasting room staff.  This is especially true for the wineries you visit with Small Lot Wine Tours since more often than not our guests are meeting and tasting with the winery owners.  HOWEVER, if you feel compelled to give a staff member a tip because they did a great job they will look upon the tip as an unexpected treat.
NOTE: Many larger wineries forbid their staff to accept tips.  One winery I know actually makes you give the tips to the winery and donate to the charity that the winery chooses.
KIDS:
  How I cringe when people say, "Ugh.I can't believe they brought their kids!"   Are people who can't find a sitter to be excluded from the wine tasting experience?  As a single mom I'm really taken aback by that attitude.  What if they are on the hunt for something specific?  What if they are on a cross country trip and decided to stop in world famous Napa?  I personally have no problem with anyone bringing their kids as long as they are WELL BEHAVED AND, PLEASE, do not let your kids sniff or taste the wine.  A winery can lose their license for something like that.
NOTE: Some wineries, due to insurance, do not allow children.  It is a good idea to call ahead and make sure it is okay to bring your well behaved kids with you wine tasting.
Here are a few more (dare I say it?)Dos and Don'ts
Pefume: don't wear it.  It interferes with the wine aroma which is a huge part of tasting wine.
DO NOT EVER pour your own wine glass.  It's against the law and it's really rude.
If you want to taste something again or "Revisit" something, just ask.
It's not an insult if you dump your wine.  Wineries would rather you dump so you can taste more wine than drink everything and be drunk.
Don't take your glass with you…the days of souvenir glasses are over.
We went over etiquette for winery guests.  But as someone whose passion is hospitality let's talk about etiquette for tasting room staff.
TASTING NOTES:
Please don't tell people what they are about to taste.  Just because you, or your winemaker, taste the flavor of buttermilk pancakes does mean that everyone is going to.  Let your guests enjoy the wine first then after they've tasted it, discuss what you taste and what they taste.  But the first sip should not have any biases.
TASTING FEE:
For the love of God, waive them if they purchase.  Period.  Are you in the wine tasting business or the wine selling business?  The damage caused by charging a tasting fee on top of purchase will cost you a lot more than the $25 you made off the tasting fee via yelp, word of mouth, and by how bad you will look because most awesome wineries would never ever charge a tasting fee on top of a purchase.
WINE CLUB DISCOUNTS:
  They get the discount if they join.  Not after they've made their first order. Yes, sometimes unscrupulous people join the club just for the discount and cancel when they get home, but they are far and few between.
TARDINESS:
  So your guests are late.  It happens.  They are already stressed about being late, no need to make them feel even worse by greeting them with a scolding.
WINE LANGUAGE:
Don't assume your guests have had Cheval Blanc (I haven't), or know what "RS" stands for, or that they don't drink white zinfandel.  Rather, assume that every guest doesn't know anything about wine and then adjust your lingo as a way to get to know them.  AND PLEASE, PLEASE, STOP using "Casis" as a tasting reference.  The vast majority of the public have no idea what a "casis" is, including myself!
NAPA VS. SONOMA
:  Stop it already.  We are all friends.        
Leave a comment
Comments will be approved before showing up.