Agave Uptown - #CreoEnTi Business Ambassador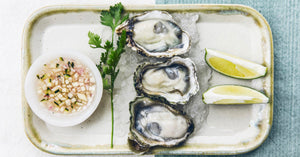 We are delighted to introduce our latest "Creo En Ti Business Ambassador" Agave Uptown!
Agave Uptown was named in homage to the agave plant, the vital ingredient in mezcal production. For the past three years, Agave Uptown has become an exciting addition to the Oakland food scene, the restaurant not only features a delicious menu of authentic Oaxacan dishes for both lunch and dinner, but also offers an original cocktail menu that highlights the versatility and flavor of mezcal. Housed on the ground floor of the Kapor Center for Social Impact, Agave Uptown has become an integral part of the Oakland dining scene while joining with the Kapor Center in its mission to narrow gaps in opportunity and access for underrepresented communities. Local architecture and design firm, Arcsine, was selected to work with Chef Octavio Diaz to create a dynamic experience for his second restaurant in the Bay Area. In addition to full scope architecture and interior design services, Arcsine's creative direction through brand development allowed a comprehensive approach to the design process, resulting in a rich and seamless experience of all that Agave offers.
Agave Uptown is a 4,000-square-foot oasis filled with thoughtful design references that bring the culture, history, and diverse energy of Oaxaca, Mexico to Oakland, California. Agave Uptown is a gregarious and accommodating space where guests can pick up a quick meal or stay and enjoy full-service dining. With two points of entry, one allows instant access to delicious, quick food options, while the other leads to a comfortable, seated dining area. Upon entering, guests are welcomed by a sophisticated, yet approachable color palette of cool blues punctuated by earthy reds, yellows, and oranges. A handsome teak floor sets the foundation for wood, copper, porcelain, brown- braided leather details that add warmth and depth to the space.
Born and raised in Santa Gertrudis, Mexico, southwest of the city of Oaxaca, Agave Uptown owner, Octavio Diaz, grew up cooking in a close-knit environment renowned for its vibrant cuisine, striking landscape and rich cultural history. With a focus on farm-raised ingredients and soulful cooking, Agave Uptown draws from the artisanal traditions of Oaxaca - an aesthetic entrenched in Diaz family culture long before it became trendy north of the border.
The grab and go area is a lively zone where guests are welcomed by an array of marketplace items. Here, patrons can observe tortillas being made, purchase jars of signature mole and Sal de Gusano, and watch Diaz lovingly craft meals from recipes handed down from his grandmother. The open kitchen is a bright space with custom mosaic tile and copper-clad columns that set the scene for a bustling culinary environment. Floor to ceiling mosaic tiles, arranged in a colorful Zapotec pattern on the bathroom walls also offer an unexpected and fun surprise.
The main dining area is defined by a curved wall separating the restaurant from the Kapor Center. A custom curved banquette and angled tables offer flexibility for small and large groups to dine. Lapiztola, Oaxaca-based art collective, worked with the design team to create a compelling mural that speaks to Agave Uptown's dedication to authentic cuisine, the creation of mezcal, social empowerment, and community.
Patrons can choose to dine at the bar, the main dining room, at tables and counters lining the perimeter or in the wood-clad private dining room at the back. The bar boasts a faceted display of folded steel planes woven and welded into a dazzling centerpiece. The intricate custom metalwork was inspired by the geometric folds of agave leaves and draws visitors to the energetic center of the restaurant to sample mezcal, craft cocktails, and delicacies from the raw bar. Behind the back bar itself, a glass wall with a delicate copper mesh veil separates the private dining room from the lively restaurant and offers a relaxed and intimate setting. Under a hickory wood canopy, generous banquette seating is clad in custom fabric inspired by Zapotec rug patterns from Oaxaca. From the leather-wrapped coas mounted to the wood wall to the black clay and copper agave leaves on display, the private dining room pays tribute to the hard work and handcrafted heritage of Oaxacan farmers.
We invite you, your family and friends to make reservations this holiday season and enjoy the gastronomic pleasures Agave Uptown offers and let them know that their friends at SVL say "Salud!".
1 Response
Leave a comment
Comments will be approved before showing up.