Hilda Ramirez - Creo En Ti Champion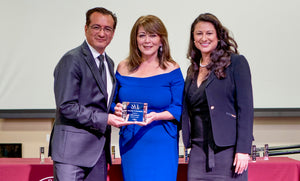 On November 9, 2019, Silicon Valley Latino in partnership with Santa Clara University and numerous sponsors, held the 2019 Latino Leaders Awards Ceremony in which 20 remarkable individuals were featured.  We continue the series featuring, CEO and Team Leader for Keller Williams Silicon City, Hilda Ramirez.  
Hilda Ramirez is the CEO and Team Leader for Keller Williams Silicon City with offices in San Jose and Santa Clara. She joined the company in January 2018 and is responsible for the companies three divisions, residential, luxury and commercial real estate operations which currently boasts 180 real estate Associates. Her goals include growing KW Silicon City to be one of KW's Premier Mega Offices.
Prior to joining Keller Williams Silicon City, Hilda served the Santa Clara County Association of REALTORS (SCCAOR) from 2014 to 2017 as their Director of PR, Communications, Education, Events and Digital Media. Hilda's responsibilities included all functions of membership engagement. Hilda ran the professional development arm of the association which provided educational benefits to more than 6,100 REALTOR members and almost 400 Affiliates.
While at SCCAOR she developed a Peer to Peer educational model which pairs the industry's most knowledgeable practitioners with its rising stars. The model was designed to curate an environment of higher professionalism, minimizing risks while simultaneously improving overall service to Consumers. The program has been largely successful and has spurred an inspiring business culture at SCCAOR resulting in greater member participation and growth. 
Hilda is a 30+ year veteran of real estate industry and has held a variety of leadership positions. She has extensive experience in 1031 exchanges, real estate investments, educational based marketing and all things social media. She holds the Certified International Property Specialist (CIPS) and Senior Real Estate Specialist (SRES) designations.
Hilda Ramirez is a Founding Officer of the National Hispanic Organization of Real Estate Associates (NHORA). sits on the Board of Directors for the Housing Trust of Silicon Valley (HTSV), is an Advisory Board Member of the Vietnamese National Association of Real Estate Professionals and as an Advisor to REBAC, the for profit educational arm of the National Association of REALTORS (NAR). She is well recognized as a local and national advocate for housing. 
Her professional accolades are many, she has been the recipient of the Affiliate of the Year for every major real estate organization and has been commended for work in her community from California leaders Senator's Bob Wieckowski and Jerry Hill along with Assembly-member Ash Kalra.
Hilda Ramirez is a native of San Jose', California where she lives with her daughter, Erica, a Corporate Attorney working in Los Angeles. Hilda's hobbies include spending time at the beach, music, traveling, the arts, hiking and investing.
1 Response
Leave a comment
Comments will be approved before showing up.