Make My Quince modernizes the planning of your Quince!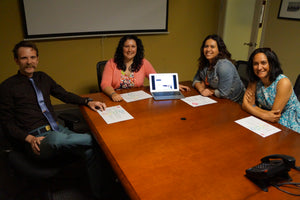 What's your elevator pitch? What problem you trying to solve?
MakeMyQuince is the first to bring online event planning and crowd funding to Quinceañeras. Our goal as a company is to build trust and provide great customer service to the Latinos; our entry point to the Latino market is through Quinceañeras. A Quinceañera is a once in a lifetime event and Make My Quince creates their solution of guiding Quinceañeras and their parents through the planning and funding of their family event.
How do you see your start-up disrupting the space it's in? What type of impact do you envision your start-up having in the market?
 What inspired you to do your start-up?
Make My Quince is taking planning tools, such as visualization, checklists, and budgeting, and bringing them together with the option to padrino fund items needed to create the perfect Quince event. We used the idea of padrino sponsors used traditionally by some Quinceañeras and applied it to our event planning service. Make My Quince is disrupting the way Quinceañeras and their families plan one of the most important events their families will celebrate and refining it to be available online or moblie. Latinos (teens and their parents) are already online and on mobile; Latinos are early adopters to new tech trends and top engagers on social platforms. The Latino market is a starving market as well as one of the most influential in purchasing power. Make My Quince strives to provide great service to our users and exceed their expectations in the planning of a Quinceañera.
Our inspiration behind Make My Quince stems from our experiences with Quinceañera events. Families are currently planning Quinceañeras the same way they did 20 years ago; we see Make My Quince making this planning process more efficient and fun. We also have the vision to use Make My Quince to empower Latino teens and their parents to practice skills such as budgeting, fundraising, and decision-making together as a family.
Is this your first start-up venture? How did your team come together?
Our team has a variety of individual professional and personal experiences and have all attempted entrepreneurship in the past. Make My Quince is the first start-up we have worked together on as a team.
Our team met at StartUp Weekend Sacramento in November 2014. Co-founder Fatima Ruiz pitched the idea of "crowdfunding for Quinceañeras" and as a team we developed a business plan, revenue streams, brand identity and won 2nd place that weekend. We have continued as a team since November 2014. We have had three focus groups and each one lead to big "AHA" moments – these have shaped our direction and validated the need and desire for our service.
How has your startup journey been so far?
After winning second place as StartupWeekend Sacramento in November, our team came together weekly to work on our project "Make My Quince". We did not think that less than five months later we would be pitching Make My Quince, now an incorporated start-up, to serial entrepreneurs and leaders in the Silicon Valley. We have received great feedback and excitement from our daily interactions in pitching Make My Quince as well as learned what our users want from us. Our users want guidance on one of the biggest events of her life, while having the independence to make her event her own and Make My Quince will make this happen.
What would you like to achieve during your time with Manos?
We are communicating with users on a daily basis and adjusting our features to make them the best they can be for our users. We hope to have Make My Quince ready to be tested as an application and redesign our website. We also are looking for key Quinceañera vendor partnerships. Our first month at Manos Accelerator has been very enlightening. The access to a great network of mentors and networks have been influential in shaping our direction as well confirming the problem we are solving as Make My Quince.
What type of funding are you looking for?
We are currently looking for bridge funding of $500,000 for the development of two application and new user acquisition.
  If you are part of a Latino owned startup and would like to be featured and connect with our Cultura Ambassadors please reach out to us via our website or any of our social media channels.    
Leave a comment
Comments will be approved before showing up.