Introducing Ryan Diego Lopez - SVL Contributing Writer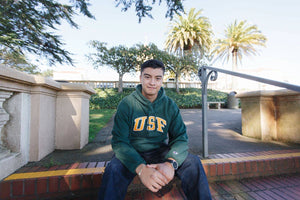 Honesty, dedication, and optimism are the cornerstone values Ryan Diego Lopez brings with him to each and every endeavor he takes part in. Ryan carries several responsibilities on his shoulders- being a full-time student, community advocate, mentor, and writer while still using his time to educate and motivate his 3 younger siblings. It's his mission to rise, thrive, and give back.
A current undergraduate student with a major in Politics, Ryan has made it his mission to aspire to be a successful immigration attorney. As the oldest of 4 children, Ryan plans to motivate his siblings to pursue higher education and a similar degree of success. It isn't in his plans to succeed without those around him. He constantly teaches his siblings the importance of culture and academia- lessons he would like to share with the greater community as well.
Despite Ryan's high school senior year being remote due to the pandemic, he ensured that his senior year was his best year yet. Ryan didn't see the pandemic as a hindrance, but rather as an opportunity to sharpen his skillset. He knew he had to compensate for his lack of physical presence through his academic performance. This dedication resulted in Ryan graduating from Half Moon Bay High with a 4.6 GPA and several honors. He committed to the University of San Francisco after receiving several scholarships- it was a childhood dream finally come true. 
At the age of 8, Ryan had become a founding participant of the local non-profit, Ayudando Latinos A Sonar (ALAS). He started as a member of the youth mariachi group, Mariachi Media Luna. He later went on to participate in ALAS' Ballet Folklórico Tonazin. Even at a young age, Ryan was passionate about his culture. He had harvested a liking for the arts and creative expression- which enabled him to find the beauty within his heritage. This motivates Ryan to represent his culture wherever he goes.
As time went on, Ryan became increasingly aware of the inequalities among immigrants and other members of the Hispanic community. Hearing his grandparent's stories of immigration and volunteering with ALAS gave him a first-hand account of these imbalances. It was then that an ardent passion was ignited to advance his family, community, and culture. Ryan always had a vision for himself. He is determined to ensure equity for immigrants as well as members of the Hispanic community within the Bay Area and beyond.
Before the pandemic, Ryan partook in several forms of community outreach. Most notably he interned as a Youth Ambassador at ALAS. This is a responsibility that he holds to this day. As a Youth Ambassador, Ryan provides a voice for the youth in several community matters. He advocates solutions for issues of climate change, and housing inequality among many other prominent topics seen within the Bay Area at several city council meetings. He is a passionate public speaker.
During the pandemic, Ryan participated in several outreach events hosted by ALAS. He helped distribute food and supplies to farmworkers, participated in various food banks, and helped tutor his younger siblings across various subjects. In addition, Ryan participated in a test group for a wellness app known as Wysa and also helped host a climate change webinar within San Mateo County. 
Silicon Valley Latino is also delighted to introduce him as our latest contributing writer and as our latest Collegiate Cultura Ambassador.  His first article featured ALAS founder and Executive Director, Dr. Belinda Arriaga. We look forward to publishing more of his articles in the near future as well as staying tuned in his academic and community endeavors. Ryan, welcome to the SVL familia!
Leave a comment
Comments will be approved before showing up.