Beatriz Pratt - SVL Cultura Ambassador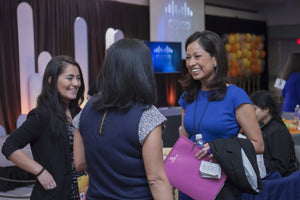 We want to salute today's SVL Cultura Ambassador
Beatriz Pratt:
Beatriz Medina Pratt was born and raised in Southern California. It was there that her parents raised her and her four siblings with proceeds from the cleaning business they ran from their garage. A big accomplishment given that Beatriz'
mami
and
papi
had a 3
rd
and 6
th
grade education respectively when they left their hometowns in Mexico.
Beatriz is currently an Operations Program Manager at Cisco Systems, a global leader in information technology. She is responsible for managing operations & leading program communications for the corporate quality organization. She relocated to the Bay Area in 2003 when she joined Cisco through the Linksys acquisition. Prior to Linksys, she held sales and operations positions at several IT companies, including Kingston Technology. While her operations work is rewarding, she is passionate about working with Latino students in Silicon Valley to achieve equitable representation of Latinos in corporate America. To this end, she is Co-President of Conexión, Cisco's Latino Employee Resource Organization (ERO), where she manages the strategy and direction of a global 950-member team. Under her leadership,
Conexión
has been recognized by Latino Magazine, LatinaStyle and other organizations for their programs aimed at encouraging students to pursue careers in STEM (science, technology, engineering and mathematics). Last year, over 1500 Latino students benefited from these programs.   Beatriz is a certified Project Management Professional (PMP) and received her B.S. in Human Services from California State University Fullerton. In April 2014, she was recognized by the
Hispanic Association on Corporate Responsibility (HACR)
as a
Young Hispanic Corporate Achiever
™ for her leadership and contributions to the Hispanic community.
She loves reading, music in any language and as a mom of two girls, is in constant pursuit of the perfect homemade cupcake frosting.  
Leave a comment
Comments will be approved before showing up.