Carlos Barraza - SVL Cultura Ambassador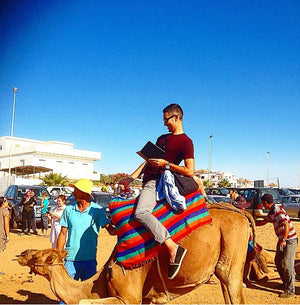 Silicon Valley Latino is delighted to present our latest Collegiate Cultura Ambassador, Carlos Barraza. Carlos is a dynamic, vibrant and focused young man who is currently a third-year student at San Jose State University. He is pursuing his Bachelors Degree in Business Management. He lived in El Salvador for seven years where he was immersed in the Latino culture and learned to perfect his Spanish.
Residing in a different country inspired his travels to various countries and to study the intersection of business and culture, specifically to investigate how culture impacts business practices, strategies and approaches. Carlos has been able to apply these unique insights in his classes on business and human behavior. Throughout the past couple of years he has also held various jobs that have allowed him to experiment and apply different project management skills in roles such as a high school substitute teacher, marketing intern (at a startup) and a street team member for a Major League Soccer (MLS) team.   These experiences coupled with his initiative and drive to be an effective contributor, have allowed him to be a productive and valuable team member. He has certainly been team oriented in his approach both in school and at work, which has helped him work well with others in projects and allowed him to adapt quickly to shifting situations. In one of his classes, he was on a team that was assigned a project on how to solve for,  "How can companies better attract and retain millennial talent?"  Carlos was able to inspire his team to work collaboratively and develop an effective presentation for Google employees that received very positive feedback. His positive attitude allows him to work well with others and even inspire others to elevate their game. His focus and perseverance are other very valuable traits that others around him appreciate and have come to count on.
Carlos is also an active member of the San Jose State University Latino Student Business Association where he participates in engaging discussion on how to enhance offerings as well as in their corporate tours where they visit various Silicon Valley companies. Additionally, Carlos is also an active member of Delta Upsilon Fraternity at San Jose State University. There he is also an active member of the Judicial Committee where he helps oversee the administrative justice of other fraternity members who have not up-held appropriate behavior according to the Delta Upsilon bylaws.   When Carlos isn't studying he enjoys living in Downtown San Jose and also loves heading up to San Francisco and experiencing the many dining options the city has to offer. He also enjoys playing basketball and challenging himself in the gym as well as salsa dancing. Currently Carlos is looking for exciting internship opportunities so if your company is looking for a great intern, Carlos is your man!   We look forward to following Carlos's collegiate endeavors and introducing him to the rest of the Silicon Valley Latino familia!  
Leave a comment
Comments will be approved before showing up.