Guillermo Diaz Jr. "G" video interview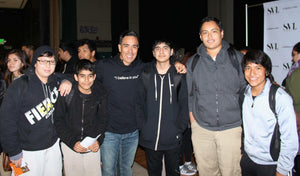 Silicon Valley Latino is delighted to share Connected Futures Magazine's interview of Cultura Ambassador and Cisco CIO, Guillermo Diaz.  Guillermo or "G" as his friends refer to him, has been a tech leader that we at Silicon Valley Latino have been following for the past few years and it gives us great pleasure to share this interview where he talks about his first year as Cisco's CIO. 
In signature G fashion he talks about engaging others and creating a culture that inspires innovation. He further discusses some of the challenges in this first year, his approach towards solving problems, some of the accomplishments, opportunities and what lies ahead. We are also proud to note that Guillermo isn't just a tech leader at a Silicon Valley company, he's also a champion in the community as he makes time to inspire the next generation of innovators on a regular basis.
We encourage you to take a moment and learn about how this successful Fortune 500 executive drives a successful approach to innovation, engagement and building a thriving culture at Cisco and beyond.
Leave a comment
Comments will be approved before showing up.