Juan Carlos Gutierrez - SVL Cultura Ambassador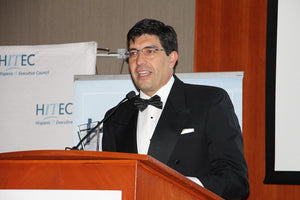 Mr. Gutierrez is a global information technology and business consulting executive with more than two decades in top leadership roles in Global 500 organizations and national non-profits.
Mr. Gutierrez is Group Vice President for Oracle Corporation, where he is responsible of the Consulting business for the Latin American and Caribbean regions. Mr. Gutierrez also serves as Board Member and Chairman of Advisory Board at HITEC (Hispanic IT Executive Council); a Board Member of CHLI (The Congressional Hispanic Leadership Institute), and also a Member of Enova Thinking Board, a network of top business leaders with the goal of speeding up sustainable business growth in the Americas. Mr. Gutierrez expertise in business and technology consulting has been constantly recognized in the Americas. He has been awarded as one of the HITEC 100 executives by
HITEC
(Hispanic IT Executive Council) during 2009, 2010, 2011, 2012, 2013 and 2014. These awards are given to the top Hispanic executives in the US in recognition for outstanding accomplishments and contributions in the IT Industry. He was also recognized in 2014 by Great Minds in STEM in the Information Technology category, and was named one of the Most Influential Hispanics in Technology by the Hispanic Engineer & Information Technology magazine in 2011. Mr. Gutierrez has been invited to address technology issues in prominent forums including the United States Congress, CHLI Leadership Forum, HITEC Summits and Oracle Open World, among others.
Mr. Gutierrez is a Computer Engineer graduated from the University Simon Bolivar of Venezuela, with graduate degrees in Management in Telecommunications from the University Simon Bolivar and the "
Institut National des Télécommunications
" of France. Mr. Gutierrez volunteers as a runner and cyclist for charitable organizations as the ADA (American Diabetes Association) and Life Runners. He is married with three children and lives in Davie, Florida.  
Leave a comment
Comments will be approved before showing up.