Miguel Garcia - SVL Jr. Cultura Ambassador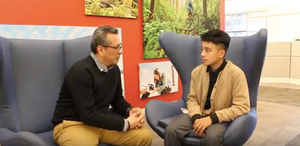 Silicon Valley Latino is excited to introduce our Jr. Cultura Ambassador program, which is focused on featuring stellar high school students. We are delighted to introduce our first Jr. Cultura Ambassador, Miguel Garcia.  Miguel is a junior at Cristo Rey High School in San Jose, California and an intern at Cisco.
Through his internship, Miguel works in the IT department for Katty Coulson, IT Director (Regional IT Leader for Americas) where he has been doing an outstanding job on various projects. Besides being focused on achieving his academic goals by taking AP courses, Miguel enjoys playing on the varsity soccer team and next year he plans to join the volleyball team.  In addition to academics and sport, Miguel has taken a deep interest in photography and video editing and plans to pursue a career in this field in the future. Miguel also enjoys working on bicycles and when he's not fixing them he enjoys riding throughout San Jose. He also derives much satisfaction from working in landscaping with his father on a weekly basis.
We've also received several reports that Miguel is a great networker and enjoys meeting people from various backgrounds and learning about their journeys so don't be surprised to see him at one of our networking events in the near future. This summer Miguel will be attending the Saints and Scholars program in Indiana at the Holy Cross College.  We will certainly keep an eye on Miguel and his up and coming senior year at Cristo Rey.

Interested in becoming an SVL Cultura Ambassador?  Reach out to us so that we can give you all the details on joining this growing community of professional latin@s.  email us info@svlatino.com
Leave a comment
Comments will be approved before showing up.