Cultura Ambassador - Servando R. Sandoval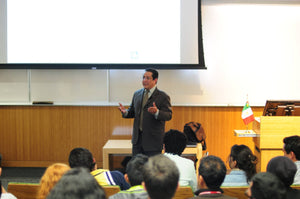 Servando R. Sandoval is a Shareholder in the San Jose-based law firm Pahl & McCay. He has been practicing for 19 years in Silicon Valley. His areas of concentration include all aspects of real estate, with special emphasis on the multi-family housing industry, employment law and commercial litigation. He represents both for-profit and non-profit owners, property managers and developers, providing operational advice in all areas of employment and real estate, including fair housing and compliance issues. He also represents many Latino-owned businesses in the Valley.
He was born in the State of Zacatecas Mexico and immigrated to San Jose at the age of six. He grew up in San Jose, attending Overfelt High School. Servando graduated with honors from the University of California at Los Angeles (UCLA) and also received his Juris Doctor from the UCLA School of Law.
Servando is the current Chair of the Board of Directors for Voices College-Bound Language Academies, a dual immersion charter school network with four schools in the Bay Area. He is also the Vice Chair for the Alum Rock Jazz Foundation (formerly Friends of Alum Rock Jazz), which raises funds for the Alum Rock School District after school jazz program. He previously served as Chairman of Board of Directors for the Hispanic Chamber of Commerce Silicon Valley and as a member of the Board of Directors for San Jose Day Nursery.
4 Responses
Leave a comment
Comments will be approved before showing up.