Francisco Jiménez - SVL Executive Cultura Ambassador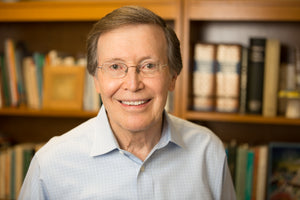 Silicon Valley Latino sheds light on Francisco's remarkable journey:
Hailing from a small rural village in the northern reaches of Jalisco, Mexico, Francisco's narrative is one of tenacity and aspiration. At the tender age of four, he, along with his family, embarked on a journey that spanned the United States-Mexican border, navigating the unknown without the shelter of official documentation. Their pursuit was born out of the desire to escape the clutches of poverty and seek out a new, more promising life in the United States. Over the ensuing nine years, their existence was marked by a nomadic lifestyle, trailing the seasons to eke out a livelihood from the land. As early as six years old, Francisco's hands joined those of his parents and older sibling, toiling in the fields, striving to make ends meet.
Yet, even in the midst of instability, Francisco held a steadfast yearning for stability, a place to call his own. This longing, in large part, emerged from his fervent wish to receive an education uninterrupted by displacement. The cycle of missing months of school each year left him feeling adrift, perpetually struggling to catch up on his studies. Learning, however challenging, became a sanctuary for him, a source of permanence amidst the flux. The knowledge he gained, whether within the classroom or on his own, remained an unwavering companion through the countless moves. It was his cherished possession, a constant amidst change.
During his eighth-grade year, the family experienced the wrenching ordeal of deportation back to Mexico. However, their fortunes turned when they were given legal reentry to the United States, all thanks to the benevolence of a Japanese sharecropper who had employed them in his strawberry fields. This individual not only extended a loan but also vouched for their return. Settling into the Bonetti Ranch, a migrant labor camp situated in Santa Maria, California, where Francisco's father's health issues rendered him unable to continue fieldwork. This burden now fell on Francisco and his elder brother's shoulders, who assumed the responsibility of working as janitors for 35 hours a week, all while keeping up with their studies, a testament to their unflinching dedication to family and desire to succeed.
With guidance from a high school counselor, Francisco's path led him to high school graduation, supported by local scholarships that paved the way for his initial year at Santa Clara University. As he pursued higher education, his younger brother took on the mantle of janitorial work to facilitate Francisco's journey through college. This relentless commitment to his aspirations marked the trajectory of a first-generation college student, whose initial year at Santa Clara University bore challenges yet also an awareness that his migrant history could be both hindrance and strength.
The years unfolded, and Francisco found himself weaving his migrant encounters into the fabric of his academic pursuits. These experiences, once impediments, transformed into wellsprings of resilience, propelling him forward in his studies. Amid moments of discouragement, he turned to the pages of his past and sought solace in his devotion to the Virgen de Guadalupe. After three years of dedicated effort during which he was awarded full tuition scholarships, room, and board in exchange for becoming a Resident Assistant, he also managed to work in the language lab, assisted a professor in her research, and tutored students in Spanish at Bellarmine High School.
Earning his degree from Santa Clara University proved to be a stepping stone to a Woodrow Wilson Fellowship, beckoning him to Columbia University. Here, he forged a path to a master's and Ph.D. in Latin American literature, with a focus on Mexican culture and literature. Armed with education and imbued with the resolve borne of his personal history, Francisco embraced the mission to combat societal inequities. Teaching, public service, and writing became his tools for constructing a more inclusive and just world.
In his literary works, Francisco draws inspiration from his formative years and the vibrant community of his upbringing – migrant farm workers. The Circuit: Stories from the Life of a Migrant Child, Cajas de cartón,  Breaking Through, Senderos fronterizos, Reaching Out, Más allá de mí, Taking Hold, La Mariposa, and The Christmas Gift/El regalo de Navidad and a host of other pieces chronicle not only his family's narrative but also the broader story of a marginalized sector of society. His writing serves as a gateway into the lives of those whose backbreaking labor underpins the food on our tables, while their dreams of a brighter future breathe life into the "American dream."
Public service acts as a companion to his written endeavors. Through his roles within the Modern Language Association (MLA), he initiated discourse surrounding Chicano literature, fostering a more comprehensive literary landscape. As a co-founder and co-editor of "The Bilingual Review/La revista bilingüe," he facilitated access to the works of Latinx writers, ensuring their voices resonated despite the hurdles of mainstream publishing.
Francisco's dedication also extended to the California Commission on Teacher Credentialing, where his ten-year tenure included two years as chair. A staunch advocate for bilingual and multicultural education, his influence left an indelible mark on the state's educational fabric. His role as a public speaker cemented his outreach efforts, bringing him to schools, libraries, and community programs, where he shared his journey to inspire and enlighten. Collaborative efforts with the PEN International Foundation further broadened his impact, enabling extensive engagements in rural regions.
With each endeavor, Francisco's aim remains consistent – to contribute to a society that embodies justice, inclusivity, empathy, and compassion. Through writing, teaching, and public service, he endeavors to bridge divides, creating a tapestry that celebrates the dignity of all.
Leave a comment
Comments will be approved before showing up.