Marcelo De Santis & Latinx Tech Leaders lead Chicago Tech Transformation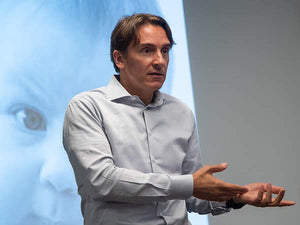 We are excited to share that SVL Executive Cultura Ambassador, Marcelo De Santis, along with other leading Latino tech leaders are a key part of a working table to bring the city of Chicago into the 21st century by building an inclusive foundation for the future of work in Chicago via technology.
Marcelo is a digital innovation leader transforming companies at the intersection of people, data and technology. He has extensive experience digitizing products and business models while building value added engagement with consumers, customers and employees. 
Over the years, he has developed a "panoramic view" of the enterprise while working across a wide range of industries - consulting, automotive, telco, financial services, pharma and CPG. He has provided leadership to startups, SMB and Fortune 500 corporations while living and working in North America, Asia Pacific, Europe and Latin America.
He strongly believes in the power of cultivating a diverse, entrepreneurial, collaborative and agile team culture focused on delivering practical business results: profitable revenue, satisfied customers and engaged employees.
Read full press release below:
Technology Firms United to Accelerate Chicago's Digital Transformation
Chairman Gilbert Villegas, of the Economic, Capital, and Technology Development Committee advances collaboration and innovation
Chicago, IL -- Alderman Gilbert Villegas has found fast success in Chicago's City Council, recently becoming Chairman of the influential Committee on Economic, Capital, and Technology Development and Mayor Lori Lightfoot's Floor Leader.
Chairman Villegas has now formed two new technology-working groups of subject matter experts to the table, which include the new Innovation and Capital Transformation Working Group. This group has a global focus on connected infrastructure, efficient funding, entrepreneurship and sustainable urbanization. Led by George Burciaga, of IGNITE CITIES
And the Economic Impact and City Equity Working Group, with a local focus on building an inclusive foundation for the future of work in Chicago through technology. Led by Darrell Higueros, of Next Generation, Inc.
The two working groups have three stated goals: generate revenue for the City without increasing taxes, build a more inclusive workforce, and make Chicago a technology hub that cultivates benefits for all Chicagoans and entrepreneurs across the country.
"I am asking industry leaders to put time and resources toward improving Chicago for everyone," said Alderman Villegas. "So far we have had a remarkable response. Companies are really stepping up, I can't wait to see what they come up with."
A full list of participants will be announced with the first report issued in September, but a number of organizations have already participated a great deal. Those include MasterCard, Cisco, City Tech and a dozen others.
The first formal meeting of the working groups took place August 14th at Chicago City Hall. Media will be encouraged to participate at subsequent meetings.
For more information, please contact Justin Heath at 630.747.4992 or email Justin.heath@cityofchicago.org.
Leave a comment
Comments will be approved before showing up.